Dr. Sam Rizk has been chosen as a Top Facial Plastic Surgeon and Rhinoplasty Specialist by Castle Connolly, the #1 Organization which selects Top Physicians in every field based on recommendations by their peers. Dr. Rizk has also published his original techniques in many plastic surgery journals, which requires peer review by other plastic surgeons to deem it original and worthy of publication. Dr. Rizk is often selected by doctors, nurses, and other medical professionals to do their plastic surgery.
Patient privacy is very important to us and only patients who have given us special consent to use their photographs are on the website or blog. Some have requested certain features be blocked out and we honor those requests so you may see certain patients with their eyes blacked out.
Featured on ABC News, Top New York Rhinoplasty Surgeon Dr. Sam Rizk speaks about a new approach in rhinoplasty surgeries. This new 3D High Definition, Cartilage Sculpting technique pioneered by Dr. Rizk allows for higher accuracy and precision during surgery, leading to better lines and tips of the nose, less bruising and an overall better outcome with Rhinoplasty.
Before
After
47 year old male who was very unhappy with shape of his nose and chin. Patient was mainly concerned about the worsening collapse on the right side of his nose and wanted some subtle improvement in his chin. Patient also had a deviated nose and difficulty breathing secondary to a deviated nasal septum. Patient underwent septorhinoplasty and chin implant and is shown after the surgery where multiple smoothly sculpted grafts were used to even out his tip and rotate his nose slightly. Subtle bump removal was also performed. The cartilage grafts were harvested from his nasal septum.
Plastic surgery does not always go the way it should. Unfortunately, very often the outcomes of plastic surgery do not meet the expectations of many patients. With revision rhinoplasty, sometimes a surgical mistake or poor healing can result in a bad outcome requiring revision rhinoplasty.
Dr. Sam Rizk is a double board certified top facial plastic surgeon in New York who does revision rhinoplasty. In one of the cases shown on the FOX National News segment about Plastic Surgery Nightmares, Dr. Rizk helps correct multiple areas of the patient's nose, damaged by previous plastic surgeries. After the reconstructive operation, the patient's nose looks straighter, more defined, and has improved breathing capability.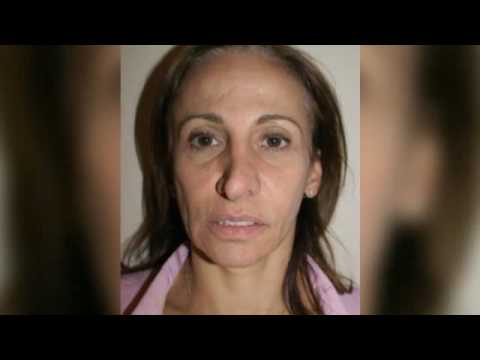 Before
After
25 year old female who underwent rhinoplasty 8 years ago and was very dissatisfied with her nose. Her preoperative pictures shows the typical stigma associated with an overreduced rhinoplasty. Preoperative pictures shows the following deformities from the profile: Scooped out saddled cartilage bridge and a bony bump, overprojected tip with a hanging columella, pointy tip on the right. Preoperative picture from the front view shows the following deformities: open roof deformity near the bony top part of nose, inverted v deformity in the cartilage part of nose, pointy tip on right, and hanging columella. Postoperative pictures are shown after rhinoplasty with the use of septal cartilage graft. Additionally, patient could not breathe preoperatively secondary to a deviated septum and could breathe after that was fixed at the same time.