Dr. Sam Rizk has been chosen as a Top Facial Plastic Surgeon and Rhinoplasty Specialist by Castle Connolly, the #1 Organization which selects Top Physicians in every field based on recommendations by their peers. Dr. Rizk has also published his original techniques in many plastic surgery journals, which requires peer review by other plastic surgeons to deem it original and worthy of publication. Dr. Rizk is often selected by doctors, nurses, and other medical professionals to do their plastic surgery.
Patient privacy is very important to us and only patients who have given us special consent to use their photographs are on the website or blog. Some have requested certain features be blocked out and we honor those requests so you may see certain patients with their eyes blacked out.
New York facial plastic surgeon Dr. Sam Rizk makes an appearance on The European Journal of Medical Aesthetics and Anti-Aging, where he discusses different facelift techniques that he uses in his practice. Dr. Rizk talks about several procedures, reviewing how he performs deep plane, endotine and short scar facelifts. His facelift surgeries result in a natural appearance and create definition along the jaw line and neck, which can be a key element of beauty.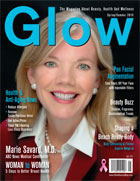 Glow Beauty Magazine reviewed the upcoming book in the "roundup of healthy aging resources" of their last issue (Spring/Summer 2010). Dr. Sam Rizk's New Book, "The New Face: A High Definition 3D Approach for Natural, Enduring Rejuvenation" will address his newest techniques in facial plastic surgery. In his book, Dr. Rizk discusses an innovative approach to facial rejuvenation, Rhinoplasty and other surgeries. As a pioneer in using this new High Definition Approach, Dr. Rizk will reveal details as to how this new approach can improve plastic surgery results.

U.K. based Tatler Magazine has included Dr. Sam Rizk in the latest "Beauty and Cosmetic Surgery Guide 2010″ Special Edition. In an article titled "Postcards from the Cutting Edge," Dr. Rizk, Director of Manhattan Facial Plastic Surgery is featured as one of the Star Surgeons, described as having a practice "with its own super-discreet operating theatre and multilingual staff." Labeling his rapid recovery techniques as being "light years ahead of his peers," Tatler quotes Dr. Rizk who says, "I redistribute fat from the jowls back to where it belongs on the cheekbones."
Before
After
15 year old patient who underwent septorhinoplasty to correct a breathing problem by correcting a deviated nasal septum and to improve the profile and front views of the nose. Patient is shown 2 months after surgery and although tip is still swollen the columella is not hanging and the bump has been removed. Tip swelling improves over a period of months and up to one year after surgery.
Top New York Rhinoplasty Surgeon Dr. Sam Rizk appears on NBC News for the Today Show, in which he discusses Teenage Rhinoplasty Surgery and how it has become more common nowadays. An increasing number of American teens have been harassed and bullied every day about their physical appearance, especially now that Facebook and other social networking sites make it easier for others to tease them, driving teenagers toward having plastic surgery. Dr. Rizk, a well-recognized New York City Facial Plastic Surgeon, talks about the importance of evaluating the teen's physical and emotional conditions before performing Rhinoplasty surgery. Plastic surgery can help teens to become more confident, happier individuals and allow them to focus on other aspects of their lives, other than their physical appearance.

Top New York Facial Plastic Surgeon and Rhinoplasty Specialist, Dr. Sam Rizk performs many rhinoplasties on teenagers. One of his patients, 16 year old Jen Selter recently underwent a nose surgery at age 15. For years, Jen was concerned about her physical appearance and had always been emotionally affected about her nose, enduring cruel bullying from her peers. After consulting a therapist and speaking with her mother, she was ready to see Dr. Rizk, who helped Jen to become a happier, more confident teenager, now satisfied with her appearance.